The Original Internet DARTCAM!
Index of CyberDarts' DartCam
DARTCAM Photos of the 1997 North American Open Darts Tournament, Las Vegas, Nevada USA. (steel-point darts)
We believe this ws the very first time that a major national darts tournament was made available to the public, "Live" on the Internet. Although this was the first DartCam tournament, we also setup the cameras and computers at several other major tournaments in the 1990's, including the 1997 Houston Open, and the 1999 North American Open.
Of course, 1997 was before "broadband" was widely available, so true "streaming video" was impossible without massive infrastructure. We had to figure out a way to send time-lapse photos instead, using plain old telephone (POTS) lines.
The Sahara and Triple 20 Productions arranged for us to have access to 2 telephone lines in the hotel ballroom, and we hooked up our Apple Duo Laptop computer to a pair of 1200 baud modems. Using special software, the two lines worked together to give us enough bandwidth to continuosly send the time-lapse images.
For the technically minded, we used MacWebCam software to capture the images, and a Fetch script to upload the images to the main CyberDarts web server at our office in Houston. That was also a Mac, but I don't now recall if it was a Mac Classic or a later model Apple computer. For many years, CyberDarts ran on WebStar server software, running on a stack of Apple Mac 6100 and 6200 model computers.
In addition, we also setup a DartChat "room" for darters to communicate with their fans and family back home. DartChat ran on a 512K Mac Classic computer, sharing the verylimited bandwdth with our little Kensington ball-shaped little web cam.
At various times during the weekend, we streamed the images at intervals ranging from 5 seconds to 60 seconds apart. Thousands of images were uploaded to our server back home in Houston, automatically assigned a URL, and that URL was published for anyone on the Web to view. It was pretty cool stuff, at the time!
Hard drive space was not cheap or easy to get back in 1997, and the computer we were using only had a megabyte or so of storage. ( The Duo laptop normally used 800K diskettes for storage!)
We hooked up a couple of external hard drives, including a SyQuest removable disk drive, and had more storage on the home server. However, the volume of images quickly filled the available space. Short on storage space, for most of the weekend we had to cut back the image frequency from 5 second intervals to 30 seconds or 60 seconds.
Over the years, several of the removable drive cassettes were damaged or lost, and Hurricane Ike knocked out our CyberDarts servers for weeks. When we finally finished moving the site to an inland ISP, we found many files were corrupted or lost. We're still hoping to eventually retrieve more of the old DartCam images from our stack of old hard drives, cassettes, and diskettes.
Sadly,the Sunday Finals events, on the main stage, are among the missing files. (We're still hoping to find them someday!)
Clunky& grainy by today's standards, the DartCam & DartChat combination was a huge hit in 1997!
Enjoy these images from the past!
Rick Osgood, CyberDarts Editor
Name
Bytes
Kind
Last Modified
Fri081597
-
folder
Monday, September 29, 1997 3:31:57 AM
Sat081697
-
folder
Monday, September 29, 1997 3:32:21 AM
Sun081797
-
folder
Monday, September 29, 1997 3:32:43 AM
files lost :-(
-
folder
Wednesday, August 27, 1997 11:01:09 AM
FridayDarts Images Index 01 - Friday Darts Images Index 02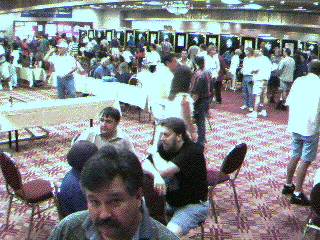 DartCam- Lightbox Slideshow Viewer